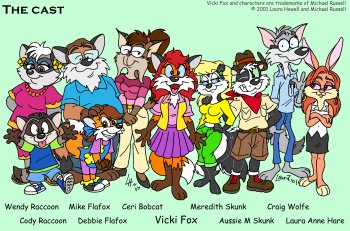 Comic Strip Cast
I bet you thought there was just little ol' me.
Well, no. I have friends, family, and co-workers.
Let me introduce you to them.
Contents
Model sheets appear on the character's page.
---
The Main Four
The following are the primary characters in the comic strip.
---
My Family
The following are relatives who regularly appear in the comic strip. Other relatives make cameo appearances, but they are not part of the regular cast.

Mike Flafox
My uncle

Debbie Flafox
Mike's daughter and my cousin

Zephy Fox
My sister
---
The Nanny
Because my uncle travels, he hired a full-time nanny to take care of Debbie. Her and her son are considered part of the family.

Wendy Raccoon
Debbie's nanny

Cody Raccoon
The nanny's son
---
Co-workers
The following are co-workers at the magazine publisher where I work.
---
Extras
Extra characters that often appear in the comic strip.
---
The family tree
The following image shows how I'm related to Mike, Debbie, and Zephy. The names in red are family members who have passed away.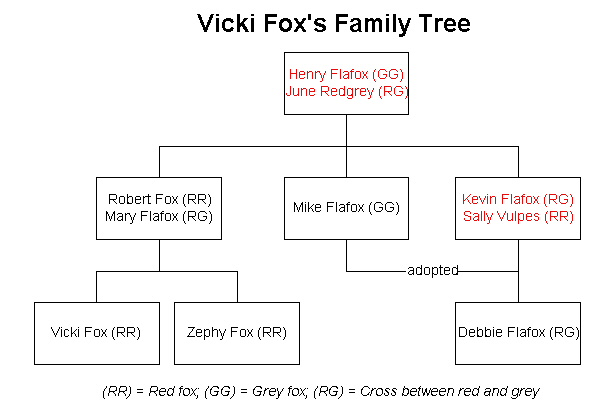 Character construction
The following image shows how to construct the major characters in the cast.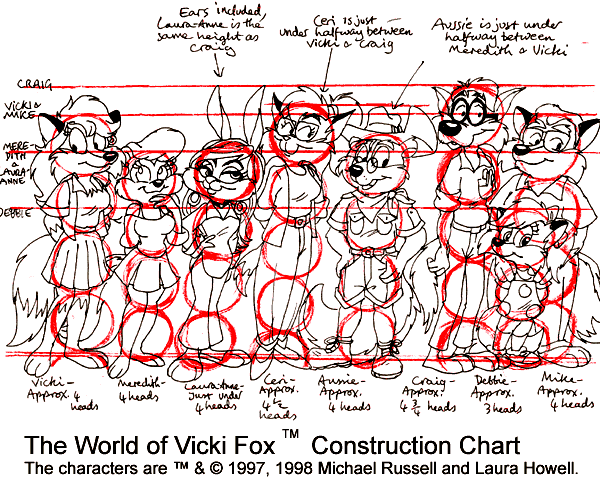 Cast credits
Unless otherwise stated, the characters were created by Michael Russell with input from KeV Beeley.
The following characters were created by Laura Howell : Cody Raccoon, William Hare, Rhonda Wolfe, Stacy Wolfe, and Aimee Neko.
Shelley Pleger helped redefine the characters of Rhonda and Stacy Wolfe.
Laura Howell is mostly responsible for the appearance of my cast. I am very much in her debt!