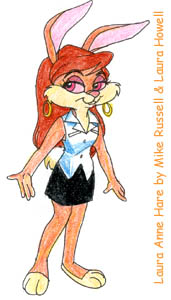 Laura Anne Hare
She is Vicki and Ceri's editor, mentor, and friend. Because Laura is the story editor, she must balance being a friend of the reporters and having to give them assignments they don't want to do. She is easy going and relaxed.
Role. The friendly boss. She will be seen more often than the actual publisher of the magazine.
---
Biography
Age: 26
Birthday: 7 May
Species: Rabbit
Sex: Female
Relationship: Married. Husband is William Hare.
Height: 34 inches (86 cm)
Identifying color: Amber. Often means mellow, abundant, prosperous, and contented. (CMY% 0, 40, 100)
Distinctions: Her earrings hang magically down below her face. She also tends to wear black and white, but stylish, clothing.
Origin: She was born near Cardiff, Wales. (A Welsh rabbit -- ok, a joke some from the UK might understand.) Her husband was transferred to the States for a long term project. Once here, they decided to transfer citizenship. Her husband is the teacher at Apopka Middle School. With her background, she was a natural to assume the editor job at the magazine.
Accent: Welsh
Job: Story editor at the magazine.
Design notes
Clothing: Laura Anne's clothing should be fashionable office attire.
---
Model sheets
The following pictures graphically defines the character. In most cases, these models were illustrated by Laura Howell.
There are currently no sample images.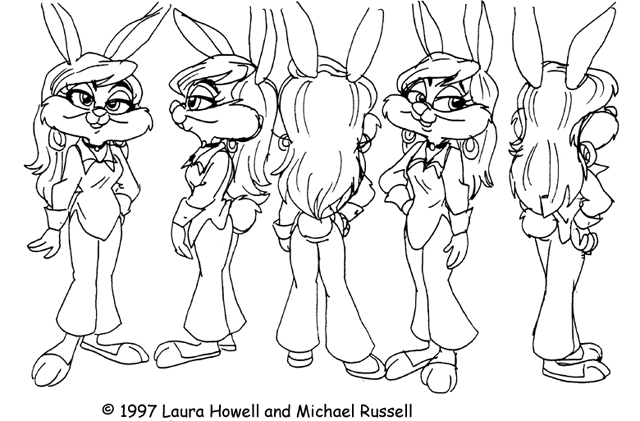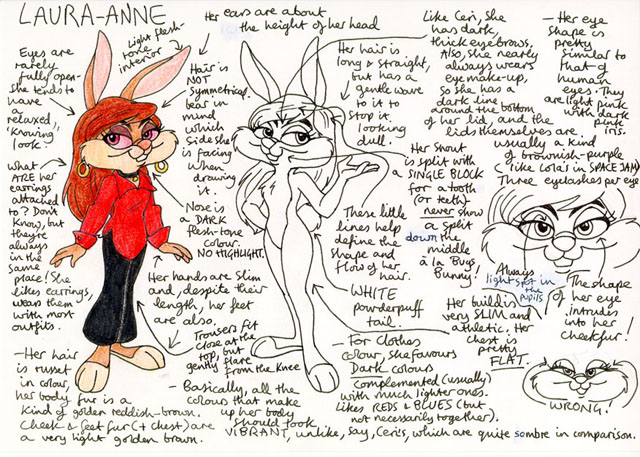 ---
Color specification
The following table defines the color specifications for the character.
| Feature | Color name | Pantone | CMYK (%) | DMC thread | Prismacolor Pencil | Prismacolor Marker |
| --- | --- | --- | --- | --- | --- | --- |
| Blouse (new design) | | White | | White | | |
| Blouse (old design) | | 172 | | 350 | | |
| Body fur | | 722 | | 976 | | |
| Ear rings | | 141 | | 725 | | |
| Eye iris | | 191 | | 956 | | |
| Eye lid makeup | | 695 | | 3722 | | |
| Eye pupil | | Process black | | 310 | | |
| Eye whites | | 494 | | 3716 | | |
| Facial fur, belly, feet | | 720 | | 945 | | |
| Hair | | 167 | | 919 | | |
| Inner ear | | 488 | | 353 | | |
| Nose | | 163 | | 3340 | | |
| Outline | | Process black | | 310 | | |
| Skirt (new design) | | Black 7 | | 3799 | | |
| Tail (pwerpuff) | | White | | White | | |
| Trousers (old design) | | Black 7 | | 3799 | | |