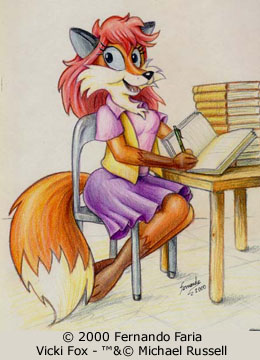 Other comic stories
The creative team behind Vicki Fox sometimes work on other projects and stories featuring the Vicki Fox cast or another person's characters. This page is an index to the scripts and illustrations we've created for those projects.
Some of these projects have been published. In those cases, we identify the publication.
---
Vicki Fox stories
A New Cheer; by Michael Russell; illustrator Laura Howell; Radio Comix, Furrlough #75, © 1998.
Terry Fox stories
The following are stories written by Michael Russell and illustrated by David Koppenhaver. These stories feature David's character, Terry Fox. The goal in the graphics was to tell a story with no dialog.
Buddy, Can You Spare a Drawing; United Publications, Wild Side #6, © 1998.
The Great Escape; Radio Comix, Furrlough #98, © 1999.
The Toy; Radio Comix, Furrlough #112, © 2001.
Foxxe Family stories
The Eight Days; by Michael Russell; illustrator Shelley Pleger; Shanda Fantasy Arts, Magic Carpet #2, © 1999.
Kogyaru Kitsune project
The Kogyaru Kitsune (loosely translated as 'Valley girl foxes') series is about two sisters and a friend who get bored with high school life, borrow their dad's space ship, and decide to travel the universe in search of "food, fashion, and fun".
This project is being developed.