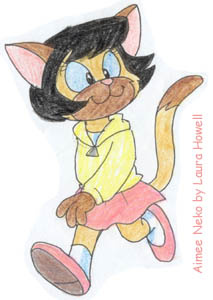 Aimee Neko
A curious student who demonstrates kitten-like behavior.
Role. Aimee is a school friend for Debbie.
---
Biography
Age: 8
Birthday: 8 July
Species: Cat
Sex: Female
Relationship: Single
Height: 21 inches (53 cm)
Identifying color: Crimson. Often means dynamic, dramatic, and passionate. (CMY%: 0, 100, 20)
Origin: Aimee is from Japan. Her family is here on a long term project.
Accent: Japanese
Job: Go to school *giggle*
Design notes
This section is currently empty.
---
Model sheets
The following pictures graphically defines the character. In most cases, these models were illustrated by Laura Howell.
There are currently no model pose images.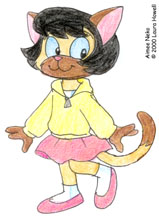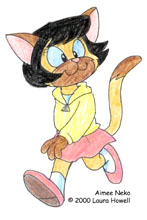 ---
Color specification
The following table defines the color specifications for the character.
This table is currently empty.