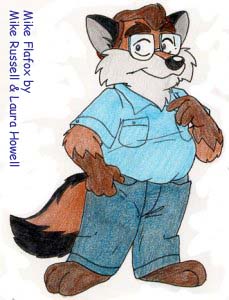 Mike Flafox
Mike is sort of the father figure in the cast. Being the oldest, he tends to be a little more settled in his ways, but is still open to change and doing things better. He enjoys sports and fun activities. He spends his time between work (software consultant) and taking care of his niece - Debbie. Mike is conservative in dress and behaviour.
Role. Mike provides the father figure.
---
Biography
Age: 37
Birthday: 14 November
Species: Gray fox
Sex: Male
Relationship: Single
Height: 43 inches (109 cm)
Identifying color: Sky blue. Often means true, honest, good, calm, and peaceful. (CMY% 100, 30, 0)
Distinctions: Seems to only have blue clothing in his wardrobe.
Origin: Born in Florida but moved to Apopka to work in the computer center at the University. He soon left the computer centre and started working as an independent consultant.
Accent: Florida/Southern
Job: Computer consultant
Hobbies: Collecting stuff that features foxes
Design notes
This section is currently empty.
---
Model sheets
The following pictures graphically defines the character. In most cases, these models were illustrated by Laura Howell.
There are currently no sample images.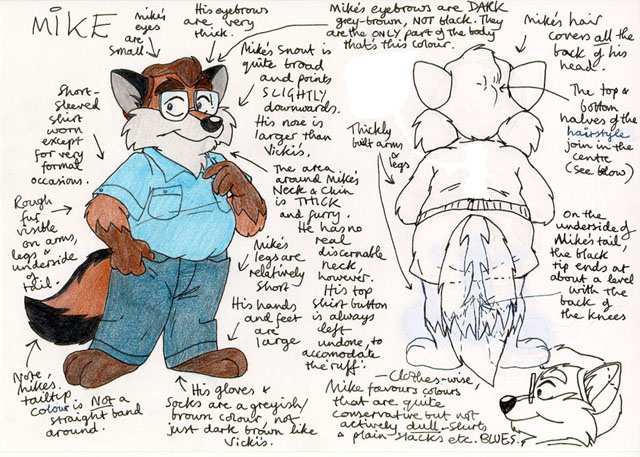 ---
Color specification
The following table defines the color specifications for the character.
| Feature | Color name | Pantone | CMYK (%) | DMC thread | Prismacolor Pencil | Prismacolor Marker |
| --- | --- | --- | --- | --- | --- | --- |
| Back of ear | | 731 | | 975 | | |
| Body fur | | 723 | | 301 | | |
| Eye brows | | 469 | | 300 | | |
| Eye whites | | 628 | | 3761 | | |
| Facial fur and belly | | cool gray 1 | | 762 | | |
| Hair | | 724 | | 400 | | |
| Inner ear | | cool gray 7 | | 318 | | |
| Pants (trousers) | | 5415 | | 930 | | |
| Shirt | | 2985 | | 813 | | |
| Socks | | 4705 | | 975 | | |
| Tail tip | | Black 5 | | 3371 | | |