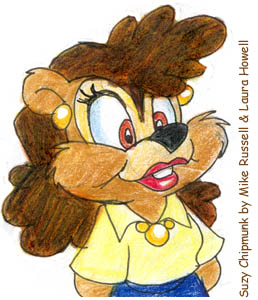 Suzannah (Suzy) Chipmunk
Suzy is a native of the area. As such, she knows the area and heritage, which most of the rest of the cast do not know. She is also the Office Lady; the person in the office or at the museum who keeps everything working and planning all the office events.
Role. Suzy is the focal point of activity around the office.
---
Biography
Age: 35
Birthday: 5 April
Species: Chipmunk
Sex: Female
Relationship: Married. Husband is Richard.
Height: 27 inches (69 cm)
Identifying color: Orange. Often means tangy, lively, and zesty. (CMY% 0, 70, 100)
Distinctions: Fast talking, overly friendly, and energenic.
Origin: Suzy is a native of the North Georgia mountains.
Accent: Southern
Job: Part time receptionist at the Apopka Reporter and manager of the Apopka Gold Museum.
Design notes
This section is currently empty.
---
Model sheets
The following pictures graphically defines the character. In most cases, these models were illustrated by Laura Howell.
There are currently no model pose images.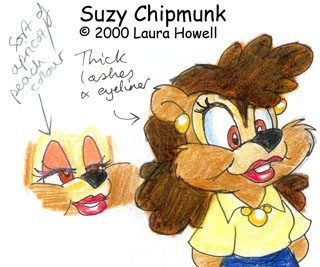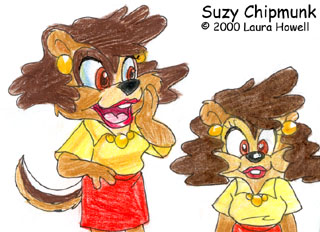 ---
Color specification
The following table defines the color specifications for the character.
This table is currently empty.