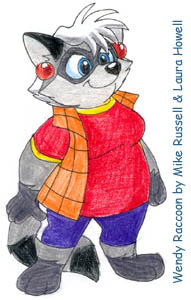 Wendy Raccoon
Wendy is a jolly, motherly type. She enjoys kids and is in many ways just a big kid. She is outlandish in her attire and her attitude toward things. She has a 7 year old son, Cody.
Role. Wendy provides the mother figure.
---
Biography
Age: 27
Birthday: 22 November
Species: Raccoon
Sex: Female
Relationship: Divorced
Height: 38 inches (97 cm)
Identifying color: Gold. Often means joyful, sunny, lavish, and uncertain. (CMY% 0, 20, 100)
Distinctions: She dresses in very colourful outfits that sort of look like a layering of everything she has. Big and bold.
Origin: Born in Queens, New York. She came to Apopka to attend Tettenhall College. Also, to raise Cody outside the New York environment.
Accent: New York/Yiddish
Job: Debbie's nanny
Hobbies: Cooking
Design notes
This section is currently empty.
---
Model sheets
The following pictures graphically defines the character. In most cases, these models were illustrated by Laura Howell.
There are currently no sample images.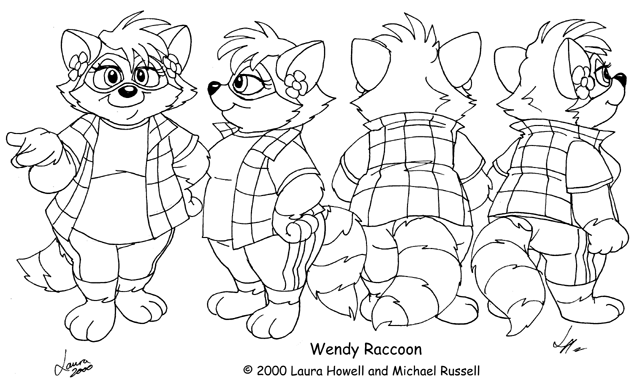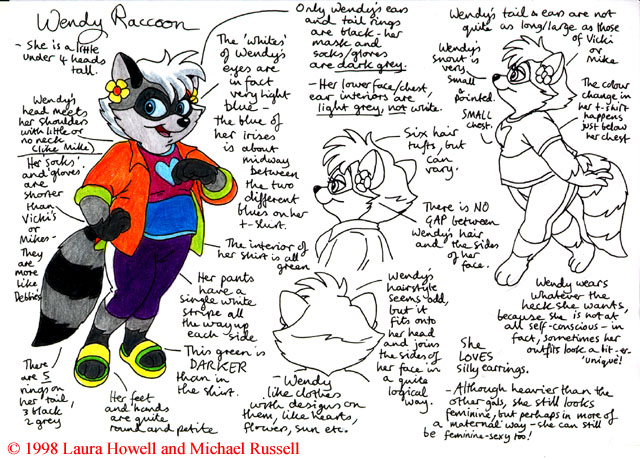 ---
Color specification
The following table defines the color specifications for the character.
This table is currently empty.