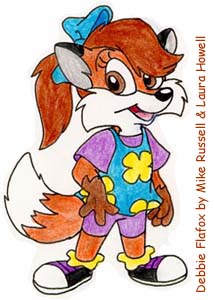 Debbie Flafox
Debbie is your typical fun loving, energetic, optimistic kid. She is curious, brave, and too often gets into mischief. Debbie has a really big 'crush' on Aussie. Unfortunately, Debbie's parents died when she was younger and Mike is now her guardian. Her father was Mike's younger brother.
Role. Debbie provides the family environment, the mischievous and fun loving child.
---
Biography
Age: 8
Birthday: 18 April
Species: Red fox
Sex: Female
Relationship: Single
Height: 22 inches (56 cm)
Identifying color: Yellow. Often means exciting, inspiring, sharp, and child. (CMY% 0, 0, 100)
Distinctions: Always active. Talkative. Adores Vicki. Always wears a bow in her hair.
Origin: She was born in Florida but moved to Apopka when Mike adopted her.
Accent: Southern
Job: "Hey, I'm just a kid!"
Hobbies: Playing, singing, hanging out with "big sister" (Vicki).
Design notes
This section is currently empty.
---
Model sheets
The following pictures graphically defines the character. In most cases, these models were illustrated by Laura Howell.
There are currently no sample images.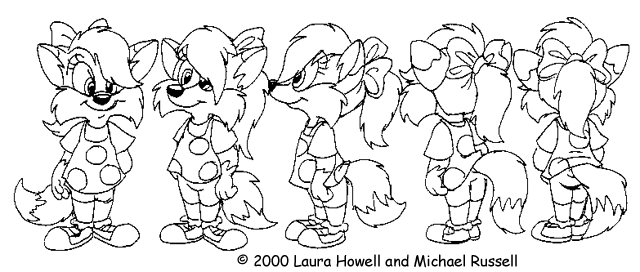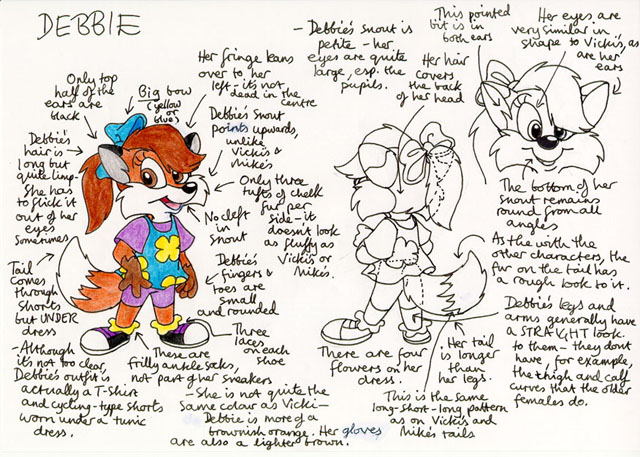 ---
Color specification
The following table defines the color specifications for the character.
| Feature | Color name | Pantone | CMYK (%) | DMC thread | Prismacolor Pencil | Prismacolor Marker |
| --- | --- | --- | --- | --- | --- | --- |
| Back of ear | | Black 7 | | 3799 | | |
| Body fur | | 158 | | 721 | | |
| Dress, flowers | | Proc yellow | | 307 | | |
| Dress, primary | | 639 | | 825 | | |
| Eye iris | | 4645 | | 3772 | | |
| Eye pupil | | Black 7 | | 3799 | | |
| Eye whites | | White | | White | | |
| Facial fur / belly | | White | | White | | |
| Hair | | 160 | | 920 | | |
| Inner ear | | 422 | | 318 | | |
| Pants / shirts | | 2577 | | 208 | | |
| Ribbon | | 299 | | 826 | | |
| Ribbon, shadow | | 285 | | 825 | | |
| Shoe tops | | 2587 | | 552 | | |
| Socks | | 471 | | 920 | | |