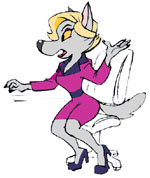 Rhonda Wolfe
Craig and Stacy's mother. She has a professional manager job. This may be related to her rather no-nonsense direct approach and her tendency to give orders. Rhonda is also a bit lonely. Since her husband died many years ago, she has been seeking a new mate. She may start very flirty and acting like a damsel in distress. But, soon her bossy nature shows through and often scares away the potential boyfriend. But, she is always on the lookout.
Role. She provides a motivating force behind Craig. Also, she may also be used in romantic side-stories.
---
Biography
Age: 40-something
Birthday: 5 September
Species: Timberwolf
Sex: Female
Relationship: Widow
Height: 47 inches (119 cm)
Identifying color: Mauve. Often means bold, stylish, worldly, and impressive. (CMY% 30, 100, 0)
Distinctions: Very stylish. Often seen in a business suit, since she is a professional.
Origin: Born in Boston. Moved to Apopka to work at the college.
Accent: New England
Job: She is Vice President of Accounts and Marketing at the Tettenhall College Credit Union in Apopka.
Hobbies: Looking for a new husband; decorating the house; spending time with her girl friends from the office at various social events.
Design notes
This section is currently empty.
---
Model sheets
The following pictures graphically defines the character. In most cases, these models were illustrated by Laura Howell.
There are currently no sample images.
There are currently no model pose images.
---
Color specification
The following table defines the color specifications for the character.
This table is currently empty.