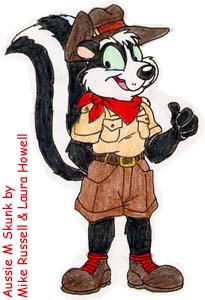 Aussie M Skunk
Aussie is Vicki's life long friend. They have known each other since elementary school. For some reason unknown, Aussie is overly fascinated with Australia. He dresses in outback attire and always has his red scarf. He uses Australian slang and idioms often. Maybe it has something to do with his name being Aussie. Aussie is a dreamer. He has a million plans but never seems to act on them.
Role. Aussie provides most of the comic relief and momentum. Like Meredith, he is superficial, but not shallow.
---
Biography
Age: 23
Birthday: 19 February
Species: Striped Skunk
Sex: Male
Relationship: Single, steadily dating Meredith Skunk (no relation)
Height: 38 inches (96 cm)
Identifying color: Scarlet. Often means bright, believable, vivid, positive, festive, and friendly. (CMY% 0, 100, 50)
Distinctions: Aussie always wears his red scarf. Even at the beach, he has his red scarf. It is like his security blanket.
Origin: Aussie is also from Florida. He grew up next door to me. His parents are from Illinois, hence his midwestern heritage. Never one for an original idea, when Vicki told him about Tettenhall College, he decided to attend, too.
Accent: Illinois/Midwestern but pretending to be Australian.
Job: Sports reporter at the Apopka Reporter. He is also one of the photographers for the magazine.
Hobbies: Sports, mate!
Design notes
This section is currently empty.
---
Model sheets
The following pictures graphically defines the character. In most cases, these models were illustrated by Laura Howell.
There are currently no sample images.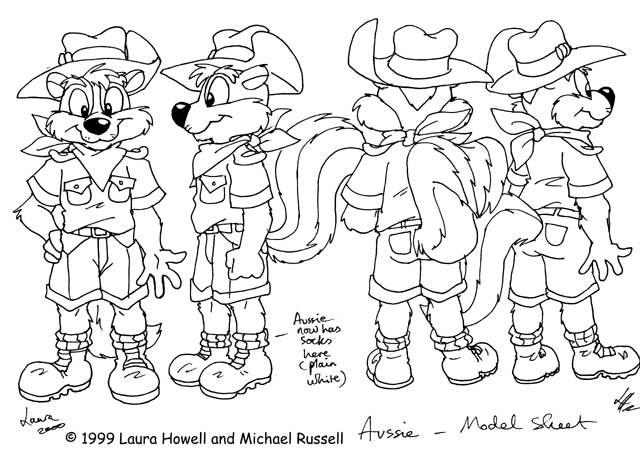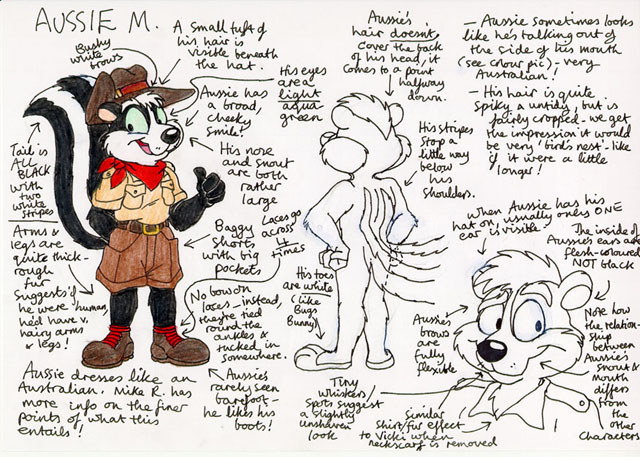 ---
Color specification
The following table defines the color specifications for the character.
| Feature | Color name | Pantone | CMYK (%) | DMC thread | Prismacolor Pencil | Prismacolor Marker |
| --- | --- | --- | --- | --- | --- | --- |
| Belt | | 462 | | 3031 | | |
| Belt buckle | | 123 | | 972 | | |
| Body fur | | 447 | | 3799 | | |
| Eye pupils | | Black 7 | | 3799 | | |
| Eye whites | | 351 | | 955 | | |
| Facial fur / belly | | White | | White | | |
| Hair | | White | | White | | |
| Hat | | 462 | | 3031 | | |
| Hat band | | 167 | | 919 | | |
| Hat buckle | | 123 | | 972 | | |
| Inner ear | | 712 | | 945 | | |
| Scarf | | 032 | | 606 | | |
| Shirt | | 1205 | | 745 | | |
| Shoe laces | | 032 | | 606 | | |
| Shoes | | 462 | | 3031 | | |
| Shorts | | 4645 | | 3772 | | |