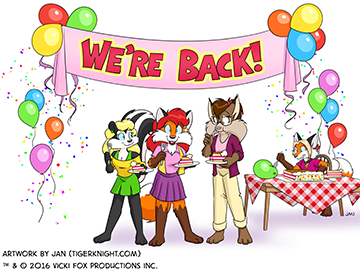 Welcome ...
Hi, I'm Vicki Fox! I'll be your host as you explore this site.
Explore our entertainment options, including a comic strip featuring me, friends, and relatives.
Discover our company services.
And, be sure to check out the many things in between.
Under Construction
Deployed releases
#1 - About and Comic menus (except galleries)
Future releases
#2 - Shop and Foxes menus
#3 - Related and Company menus
#4 - Galleries
#5 - Comment system
#6 - Fan submission system
#7 - Revenue system
Please use the Vicki Fox Facebook page for comments and sharing media.
---